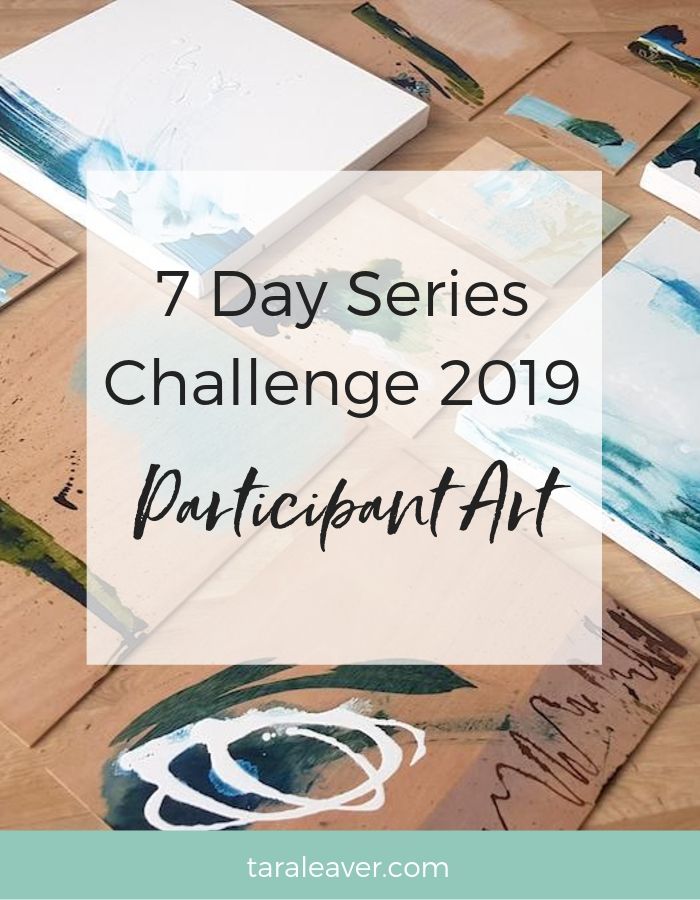 The 7 day series challenge I run each autumn before Touchstone opens for registration is always a week of playfulness and discovery, and this year was no exception!
It never fails to uplift me how many people dive into the week of focusing on making a small series with such enthusiasm and support for each other.
And so much beautiful work comes from it, I like to share as much as I can here on the blog. So, without further ado, enjoy this little gallery of artists' series!
Yana Amosova
"This challenge showed to me, that I don't need a lot of preparation or special mood to make art, I just need to start and let the paint lead me. I also opened my mind to play and trying new things and made a big step in leaving fears behind. This calm, more confident and curious inner artist is really in me!"
Sharon Bruster
"The things I enjoyed most about the challenge were the daily focus on a core theme and the opportunity that gave me to experiment and have fun with it.
I pretty much immediately realised that my original aim of creating more 'calm white space' in my paintings wasn't really what I wanted to do at all! I love that in other peoples' work, but I really need colour and energy in my own paintings!… A good reminder about what is 'me'.
And finally, being part of such a great community … inspiration and support in equal measure….priceless!"
Esther de Boer
"This time I sure was feeling out of my comfort zone. But I was surprised what you can see if you are listening to your imagination. I had to think about my younger years, staring at the clouds and see the most funny animals or other figures! Thank you again for this great challenge!"
Judy McKenzie
"I have enjoyed this 7 Day Challenge and Touchstone previously, and have no hesitation in commending Tara and her well  presented course to you.  Therefore to those wishing to explore and grow, I say dive in! Tara's teaching style, her encouragement and guidance, have given wings to this late starter.
During this challenge I found it rewarding to use different mediums with the same subject matter to complete a series. Touching base with my watercolour beginnings has been a bonus. Thank you Tara!!"
Francesca Tesoriere
"I was undecided until I started later on day 3. It was so astonishing to discover something I've never tried before, matching watercolors and charcoals! Here's my little series of compositions."
Judith Clough
"I loved the seven day challenge! Exploring a theme as a daily practice not only helped me to get into a routine of creating every day, but enabled me to really focus on developing an idea on a continuous basis. It has also fired me up with inspiration for future work. 
I found that keeping it simple and sticking to a limited palette can actually feel very liberating. 
And I also learnt a lot about my own process. Choosing to work with some volatile and fluid mediums – inks on yupo paper – forced me to let go of control, be in the moment, and let my painting become more loose and free. I am so pleased because this is where I have been wanting it to go. 
Creating this series also made me realise just how much I am inspired by the sea! 
Thank you so much Tara!"
Suzie Chaney
"I loved how the challenge got me pushing further with exploring the possibilities of the cyanotype process, and even though I ended up down a few blind alleys I got unexpected and surprising (good) results too. Oh, and spending time making art outside directly in the landscape was an absolute joy!"
Monica Lopez
"The experience of the 7-day challenge was very rewarding for me. I learned to let go, even in small formats, to follow the marks that were appearing, to play with the colors, to let myself be guided by what the painting itself was suggesting to me … but above all … to tear down my "demons"; ) !!!!!!!!
I loved having participated and having shared this experience with this beautiful community of artists, with whom we lived similar experiences."
Jill Carrott
"In this challenge I explored aquariums following a visit earlier in the year which had a deep impression on me. I was looking to record colour and feelings in an abstract way as a beginning for a painting series. I have started the series but so far I feel I have 8 starts!!
Really enjoyed this one, as well as making art everyday for 7 days and more exploration of oil pastels, I have several images to work with."
Ksenia Tsyganyuk
"This time I tried to focus only on abstraction – these are warm colors and natural materials (autumn leaves). The most difficult thing was to work with free space, because there is anxiety, maybe I should fill everything?
But on the example of paintings by Tara and other artists, I see that if you understand form and space that opens the way to improvement."
Wendy Meg Siegel
"This perfectly timed challenge helped me jump start the direction of my next series: Ancient Wisdom. After taking six months to explore working on paper, this was the ideal incentive to get me back to the type of work I truly love, working with canvas.
Tara, and the positive community she created on Instagram, was such a wonderful support in making this shift."
I hope this not only inspired you, but also showed that not only is it entirely possible to create a cohesive and uniquely recognisable body of work in a week, it's also a catalyst for more! We're going into this idea in much greater depth – and with a comprehensive approach to the issues that can come up and hold you back when you want to make art –  in Touchstone, which is open for registration until October 29th. There's plenty of room for you if you'd like to join us! Click here to find out more and register.